Prometheus and Related Software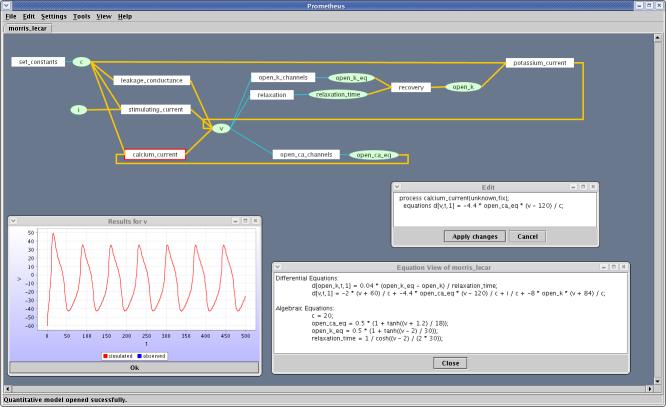 Screenshot: An implementation of the Morris-Lecar model of the electrical activity in a barnacle muscle cell (see a higher resolution image).
Upcoming Releases
HIPM, an inductive process modeler that supports hierarchical modeling constraints: Released! See below.
SC-IPM, an inductive process modeler that incorporates modular modeling constraints: Late September 2008.
Prometheus 2.0 (alpha release), an updated version of the modeling environment that incorporates advances in inductive process modeling, the process modeling language, and user-interface design: December 2009.
Quick Instructions
Requirements: gcc, perl, java, Linux
Installation: unpack the archive. A directory called prometheus will be created.
Use: Enter the prometheus directory and issue the command ./prometheus.sh
Notes: You must start the program from within the prometheus directory for it to run correctly. The GUI should run in any java-enabled environment, but simulation and revision are currently restricted to Linux.
Download
updated December 9, 2004
updated August 27, 2008
This archive unpacks into a hipm.release directory. Please see the included README and LICENSE files for details about use and distribution.
This paper, introduces HIPM and includes initial experimental results
Disclaimer
This software is provided without any guarantees.
Copyright
Prometheus is copyright (c) 2004 by the Institute for the Study of Learning and Expertise. All rights reserved.